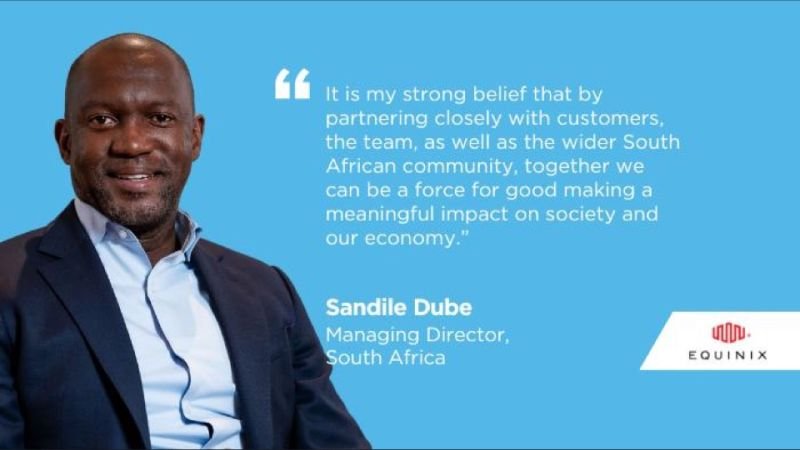 Equinix has appointed Sandile Dube as its Managing Director in South Africa to support Equinix's strategy for fostering growth, innovation, and global connectivity on the African continent. In his new role, Sandile will work closely with both local businesses and multinational companies to establish a crucial interconnection platform in Equinix's new JN1 International Business Exchange (IBX) data center in Johannesburg.
Scheduled for a mid-2024 launch, the new IBX data center will establish connections for businesses within and outside South Africa, linking them to the vast network of Equinix customers and partners within the global Equinix ecosystem.
Sandile joins Equinix from Hewlett Packard Enterprises (HPE) where he held the position of Managing Director, South Africa and led its incredible growth during his tenure with the company.
In his new role, Sandile will lead Equinix's expansion into the South African market. He will collaborate closely with existing global customers and engage with South African businesses and organizations to help them achieve their goals of accelerating growth, accessing the global ecosystem, fostering innovation, and leveraging the substantial growth and connectivity opportunities on the African continent and beyond.
Sandile will also lead Equinix's key local engagements in an endeavour to make a meaningful impact to society through the support of initiatives focused on education, sustainability, and the betterment of society as well as driving the vital environmental and community initiatives so crucial to the sustainable goals and vision of Equinix.
Sandile Dube, Managing Director for South Africa at Equinix, said: "Equinix is committed to accelerating a digital Africa and expanding the global footprint to connect Europe and the world to the African continent. I'm proud to have joined such a significant global business as its Managing Director of South Africa. South Africa is an amazing country with a remarkable opportunity to accelerate its digital ambitions creating global investment and international trade. It is my strong belief that by partnering closely with customers, the team, as well as the wider South African community, together we can be a force for good making a meaningful impact on society and our economy.
Commenting on Sandile's appointment, Judith Gardiner, Vice President for Growth and Emerging Markets at Equinix said: "I'm delighted to welcome Sandile to the Equinix team to lead and develop our operations in South Africa, supporting local business and multinational companies with their expansions into Africa and across the globe with Platform Equinix. This is another pivotal moment for Equinix as we continue the expansion of our footprint in Africa through establishing key data hubs, accelerating the development of digital technologies, supporting our customers, and contributing to the continent's huge growth potential with digital infrastructure."
Sandile's appointment as Managing Director for Equinix's South African business is just the latest in a series of strategic announcements as part of Equinix's expansion into the African continent. Following the acquisition of MainOne in April 2022, the World's digital infrastructure company announced its entry into South Africa with an initial US$160M Data Center Investment in Johannesburg.
Comments