VAST Data, recently announced that it has doubled the storage density of the hardware platforms supported by its Universal Storage offering, providing customers with an even more cost-effective and power-efficient all-flash data platform that is the vehicle to achieving cost and efficiency supremacy in enterprise and cloud data centers.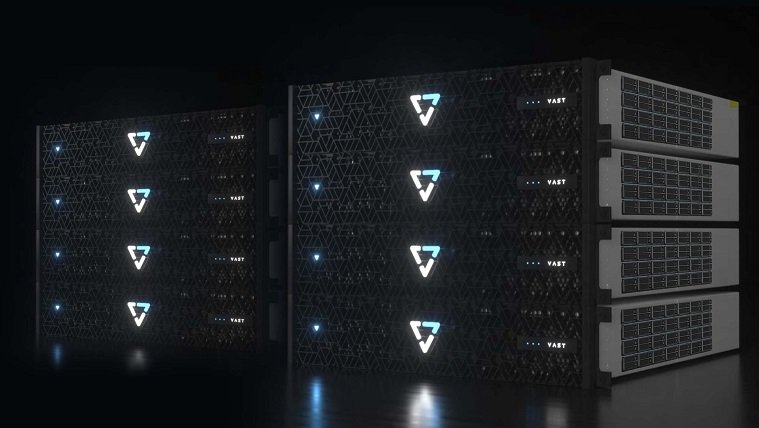 Based on Intel's 30 terabyte (TB) quad level cell (QLC) solid state drives (SSDs), VAST-supported NVMe enclosures double data center density to feature over a petabyte (PB) of effective capacity per rack unit (RU). VAST's innovative approach to data management and industry leading Disaggregated Shared Everything (DASE) architecture enables enterprise customers to deploy cutting-edge hyperscale hardware, unlocking greater power efficiency, greater physical density and unprecedented flash capacity per total cost of acquisition.
As a disaggregated, shared-everything architecture, VAST's Universal Storage offering breaks the traditional tight coupling of CPUs and storage media to make it easier to control power utilization. To further help organizations efficiently deploy hyperscale and power-efficient flash archives, VAST Data is also pre-announcing the new Universal Power Control feature (available in 2022), a mechanism that enforces strict limits on system power consumption by intelligently scheduling CPUs to reduce peak power draw by 33 percent.
Benefits of VAST's updated offering include:
Running at just 500 watts per petabyte, VAST Data is able to deliver a system efficiency that is as much as 11x m ore power efficient than enterprise hard-drive based archive systems such as Dell PowerScale A300 and up to 9x more power efficient than competing all-flash scale-out systems such as Pure Storage's FlashBlade offering.
By effectively doubling the capacity of a single Universal Storage system (2U chassis), supported system density and VAST's game-changing Similarity-Based Data reduction result in a 5x data center density advantage over Dell PowerScale and Pure Storage FlashBlade offerings.
The efficiency innovations in VAST software and Universal Storage's support for high-density hyperscale NVMe media make it possible for companies to finally move all their data onto flash and future-proof their data platform investments to prepare for modern data-centric workloads.
Comments