Schneider Electric, today announced it has added the new Easy UPS 3M, a 60 kVA to 100 kVA (400V) UPS, to its 3-Phase UPS family of products. Available in most countries, the Easy UPS 3M personifies simplicity as it is easy to install, easy to use, and easy to service, providing business continuity for small and medium businesses, and making it an excellent fit in both the data center space and in industrial environments.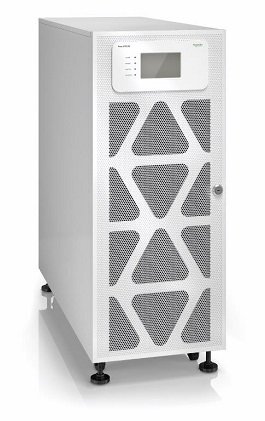 With an optimized footprint design and enhanced product features, Easy UPS 3M protects critical equipment in a multitude of physical environments from damage due to power outages, surges, and spikes. This unit saves on CapEx investment while also delivering up to 99% efficiency in energy-saving ECO mode. Customers benefit from the included start-up service to ensure the Easy UPS 3M is properly and safely configured for best performance, reliability, safety, and peace of mind.
"With our latest 3-phase offer, Schneider Electric is better able to meet both customer needs and partner requirements in a wide range of industries, making it an excellent fit for small and medium businesses, data centers, and manufacturing facilities," said Christopher Thompson, Vice President, 3-Phase Line of Business, Schneider Electric. "Easy UPS 3M fills a growing market need for a solution delivering power availability, reliability, manageability, quality, and convenience."
Designed and tested following Schneider Electric's standardized rigorous procedures, the UPS rolls into position quickly and installation is simple. It features an intuitive display interface for easy configuration and monitoring, and, with optional network management card, customers can monitor and manage the UPS status remotely through Schneider Electric's EcoStruxure IT cloud-based software suite.
The Easy UPS 3M provides easy design configuration with the input/output/bypass breaker built in so there is no need for an external breaker cabinet. It is simple to service and offers front/top access for service and built-in UPS lifecycle management. It also offers resiliency against harsh environments with conformal coated printed circuit boards, replaceable dust filter, operating temperature up to 40 degrees C, and strong overload protection, all of which make Easy UPS 3M a reliable solution to ensure business continuity.
Comments